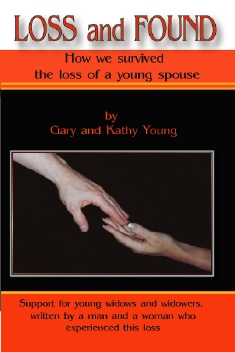 At last! An uplifting, detailed, and honest book for young widows and widowers, answering many difficult questions, by two nationally recognized support leaders.
For more info, excerpts, free newsletter, to purchase,
CLICK HERE
.
In use at Colleges throughout the doctoral level, but written on the lay level, easy to undersand. Used throughout the world as an authoritative source of information and support.
"A must-read for anyone experiencing loss. I've interviewed over 150 authors to date on my PBS series. I was astonished by this distinctive voice of experience. Gary and Kathy's wit, wisdom, passion, and insight guide us through a warm and lighthearted journey into love, loss, remorse, then to new love, in a seff-help guide to millions of young people facing loss. The light of hope illuminates the tragedy of loss, even finding humor in the recesses of depression."
Barry Kibrick, BETWEEN THE LINES, PBS
"LOSS AND FOUND fills a void in the bereavement literature for young widows and widowers. The authors candidly, tastefully describe their lives and loss experiences from the moment they learned their spouses were terminal until their lives were joined as a blended family of seven."
Judy Davidson, PhD., director, RENEW Center for Personal Recovery
The readers say:
"Such a moving and insightful aid! I particularly liked the truthful portrayal of both the male and female perspective."
"A great book. I couldn't put it down."
"Your sensitivity, humor and clarity answered many of my questions, some of which I did not even know I had."
"It was particularly interesting to me to see an honest picture of a man crying. This will help men who feel that it is wrong to cry."
"I laughed a lot at the dating experiences. During the roughest time of my life, the book was my therapy and inspiration."
"I laughed and cried and realized that I am normal, and I am not alone! I could relate to both of your experiences."
"It's only been eight months, but I have seen a change in myself and in my life and I owe thanks to you for part of it."