Mariette Hartley and Marcia Wallace to receive Lifetime Achievement Awards
Los Angeles, May 1, 2007.
Two largely unsung heroes, who have inspired and given hope to many, will receive well-deserved Lifetime Achievement awards on Monday, July 30, 2007. Mariette Hartley and Marcia Wallace have written books and have spoken to many in their support.
Hartley is known for her tireless work with the American Society for Suicide Prevention and Wallace is a national spokesperson for Breast Cancer Awareness.
In addition to their artistic accomplishments, they are generous with their personal stories, and they have been effective in carrying the positive word.
They will receive their awards at a meeting of the Independent Writers of Southern California, Los Angeles' most active writers organization. The renowned author, founder of the Los Angeles Times Review of Books, Digby Diehl, will moderate a lively and entertaining discussion of their writing.
Proceeds from book sales at the event will be donated to the American Society for Suicide Prevention and the Breast Cancer Society.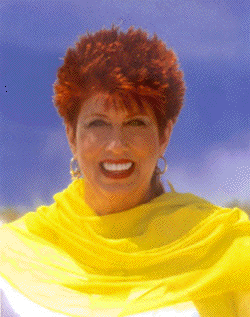 Marcia Wallace

has been making people laugh on television for thirty years and while her career includes the long running role as "Carol" the receptionist on The Bob Newhart Show and an Emmy winning role as Ms. Krabappel on The Simpsons — 4 of TV Guide's funniest episodes in television history have featured Marcia — her greatest success has been weathering her own stormy life. Note the title, please! This is a life lived out to the edges, dominated by a powerful life force and her big personality.
She's been through it all, can share her turbulent life and make us laugh and cry with her along the way. She's a likely successor to the late Erma Bombeck, a down-to-earth wit who can use the stuff of her own experiences to reach American women and become a fixture in their homes. Erma did just that, selling millions of books, writing 4,500 newspaper columns and Marcia Wallace has that same voice. She's another great dame with an eye and ear for our common experience.
Marcia was met with some formidable challenges at birth. She was born to an unloving mother, an abusive father and not pretty or popular in the Midwest of the 50's. But she was gifted with talent, tenacity and a big heart. And, most importantly, an almost congenital inability to feel sorry for herself. She tells her story – a story with more than its fair share of sadness – with acceptance and humor. She's learned a lot and learned it the hard way and her story has a meaning for all women but 'Girlfriends of a Certain Age' will feel especially inspired by Marcia's lack of self-pity and resilience.
The early chapters of the book paint a colorful portrait of growing up in small town Iowa in the 1950's, being the fat and brainy offspring of two alcoholic parents. She suffered physical abuse from her father, mental abuse from her mother and even sexual abuse at the hands of a local Dairy Queen employee. Yet, and this is one of Marcia's greatest gifts, she manages to forgive them all and find the humanity in the less than commendable adults that peopled her childhood. She turns tragedy into comedy without a drop of sappiness … she's an optimist with an edge. Her story continues to New York where her drive and talent lead from improvisational theatre to the Merv Griffin Show to discovery by CBS legend Bill Paley who cast her (sans audition) in the role of 'Carol' on the Bob Newhart Show. With a succession of creepy boyfriends and a stint in a mental hospital, which Marcia refers to as 'the bin'. After 'the bin' came crazy psychiatrists, loopy sex therapists and more creepy boyfriends.She recovered thanks to psychotherapy, friends, and her spiritual journey leads to redemption in her adopted religion, Buddhism. At the age of 43, Marcia finally meets the love of her life and to her astonishment, he loves her back. On the eve of her wedding, in yet another perverse twist in her life, she is diagnosed with breast cancer and goes on to be a "blushing Buddhist bride". When she and her husband, Denny, fail to get pregnant, they go on the dramatic pilgrimage of love called adoption and end up in the delivery room coaching the birth mother. Finally: Marcia, happy at last. However, when their child is 5, Denny is diagnosed with pancreatic cancer, suffers for 8 months and dies. The latter part of her tale deals with grieving, getting out of debt, menopause, single motherhood, widowhood and all at the same time!
Marcia starts to put her new life together only to be sidetracked by a fire that destroys her home. There's also a walk on the underbelly of show biz – dinner theater ("opening night roses came out of my first paycheck") and films including an opus called "Space Sluts in the Slammer". But she hangs in there and at 50, a widow and a single mom in menopause, Marcia wins an Emmy for her tender and hilarious portrayal of Bart Simpson's 4th grade teacher, Mrs. Krabappel. More importantly, she becomes a national spokesperson for breast cancer awareness, going on the road to tell her story of survival and hope.
Prior to her recent role as Maggie the housekeeper on THAT'S MY BUSH, the irreverent sitcom by the creators of SOUTH PARK, Marcia Wallace was best known for her Emmy award winning role as Bart's teacher, Mrs. Krabappel, on THE SIMPSONS, and as Carol Kester on THE BOB NEWHART SHOW. She reprised that role when she guest starred as MURPHY BROWN'S 66th secretary, for which she received an Emmy nomination. She reunited with Murphy as a member of her breast cancer support group, with her old boss on GEORGE AND LEO and recently appeared on SEVENTH HEAVEN and PROVIDENCE . Marcia's voice has also been heard on several animated series, films and commercials.
Marcia appeared in "The Vagina Monologues" in Los Angeles and repeated her role in the New York City and Chicago and San Diego productions.
Marcia has been paid for doing what she loves to do since l969. She left Iowa for New York City the afternoon she graduated from college weighing 230 pounds, with $150 in the bank. Marcia now suggests to theatrical hopefuls that their ready cash should at least equal their weight.
Her first professional job was the chubbette role in the summer stock production of MUSIC MAN. She also sold bedsheets, typed scripts (HELLO DOLLY, to drop a name), and substitute taught English in the Bronx . The day she screamed "shuto-upo" to an unruly group of Spanish-speaking students was her last on a teaching payroll, although Marcia has continued to work with kids on a regular basis.
Ms. Wallace then lost 100 pounds and went into a nude production of DARK OF THE MOON ... she does not believe there was a connection. Other New York credits include CALLING IN CRAZY with Jill Clayburgh and the improvisational comedy group, THE FOURTH WALL, which ran off-Broadway for a year. During this time she studied with the renowned actress and coach, Uta. Hagen . While in New York she also started her TV commercial career, and has appeared in over fifty of them to date. Marcia recently did her first informercial.
Ms. Wallace has also made over fifty appearances on the MERV GRIFFIN SHOW and first came to Hollywood at his request. In fact, she was cast on NEWHART after being seen on a Griffin show in March 1972.
In addition to seven years on the NEWHART series, she has guested on such shows as MURDER SHE WROTE, MAGNUM P.I. , TAXI, A DIFFERENT WORLD, and has had recurring roles on FULL HOUSE, CHARLES IN CHARGE, and ALF.
Marcia is most excited about her art film career (and Meryl Streep is very nervous), which includes MY MOTHER THE WEREWOLF, TEEN WITCH, GHOULIES GO TO COLLEGE, and the eagerly awaited SPACE SLUTS IN THE SLAMMER.
She has made regular appearances on the celebrity panels of game shows. Never off stage for long, she toured as Olive Madison in the female ODD COUPLE. Other stage credits include SAME TIME NEXT YEAR, TWIGS, IT HAD TO BE YOU, SUPPORTING CAST, PRISONER OF SECOND AVENUE, PLAZA SUITE, GYPSY, PROMISES PROMISES, BORN YESTERDAY, all three roles in LAST OF THE RED HOT LOVERS, the geriatric version of YOU'RE A GOOD MAN, CHARLIE BROWN and Ouiser in STEEL MAGNOLIAS.
Ms. Wallace's first Los Angeles stage appearance was her starring role in AN ALMOST PERFECT PERSON, which she also produced. The production was seen at the Coast Theater and ran for sixteen weeks.
Wearing yet another hat, Marcia has hosted nationally televised comedy clubs, has appeared as guest host on talk shows around the country and has hosted her own show 'DO OR DIET' with Gordon Jump on the cable health network.
In October of 1998, Marcia was featured in a People Magazine cover story on the American breast cancer epidemic along with other celebrities who have survived breast cancer. As a fifteen year survivor, Marcia has become a high profile advocate for breast cancer awareness. In addition to sponsorships, media appearances and her visibility as a television actress, Marcia is also a motivational speaker. She has spoken to thousands of women across the country sharing her hilarious and moving story. She also just finished her first book. Both her speech and her book are entitled "Don't Look Back, We're Not Going That Way". The title is a quote from her larger than life father. Of course, he also used to say "If I don't see you again the mule is yours", so not everything he said was deep. The book is subtitled "How I Overcame a Rocky Childhood, a Nervous Breakdown, Breast Cancer, Widowhood, Fat, Fire & Menopausal Motherhood and Still Managed to Count My Lucky Chickens."
DON'T LOOK BACK WE'RE NOT GOING THAT WAY!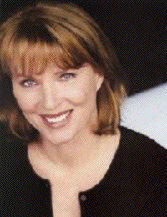 Mariette Hartley

is an Emmy Award-winning (and six times nominated) Best Actress. She has established herself as an enduring star on stage, in five television series, countless television movies, and more than a dozen feature films. Her adventurous stage career has embodied the works of Chekhov and Shakespeare as well as musicals, and she has shared the stage with such notables as Hume Cronyn, Jessica Tandy and Charlton Heston. Her tireless efforts in helping humanity through myriad charitable involvements has not only distinguished her career from its early beginnings, but has made her one of the top motivational speakers in the country.
One of the last young performers chosen by MGM Studios to be groomed for motion picture stardom, Hartley conquered Hollywood in Sam Peckinpah's classic Ride the High Country. Her subsequent starring roles included Alfred Hitchcock's psychological thriller Marnie, with Sean Connery and Tippi Hedren; Skyjacked, with Charlton Heston; and Improper Channels, opposite Alan Arkin, for which she was nominated for a Genie Award (Canada's equivalent of the Oscar) for Best Performance by a Foreign Actress.
Hartley has also appeared in dozens of television projects. She was a regular cast member on the series Peyton Place and Goodnight, Beantown, and guest-starred on episodes of Gunsmoke, The Bob Newhart Show, The Streets of San Francisco, McCloud, M*A*SH, Nash Bridges, and many more. She also starred in such acclaimed TV movies as M.A.D.D.: Mothers Against Drunk Drivers and Silence of the Heart. Hartley may be best known for those great Polaroid commercials she did for six years with James Garner, and for which she won three Clio awards, advertising's highest honor. In 1980, she substituted for Jane Pauley on NBC's Today Show, and in 1987 was co-host of CBS's The Morning Program.
More recently, Mariette starred in Hallmark Channel's Meet the Santas, and she currently has a recurring role on Law & Order: SVU.
Hartley studied with Eva Le Gallienne and John Houseman, touring with Houseman's Stratford, CT Shakespeare Festival in A Midsummer Night's Dream and in The Winter's Tale with Bert Lahr. In the early 60s, after moving to Los Angeles, she was a member of the UCLA Theatre Group, starring in To Clothe the Naked, Measure for Measure, and Antigone. She reprised her role as Isabella in Measure for the famed Joe Papp at the Delacorte, who brought her back to play Constance in King John. Regionally, she appeared in The Merchant of Venice (Goodman), Mrs. Warren's Profession (Huntington Theatre); A.R. Gurney's Buffalo Gals (Williamstown); and The Seagull, directed by Jack O'Brien (Old Globe). Locally, she appeared in The Miser with Hume Cronym and Jessica Tandy (Mark Taper) and Chemin de Fer. She received a Drama-Logue Award for Trojan Women and an Ovation nomination for Enchanted April, and toured in The Sisters Rosensweig (Drama-Logue Award), Death Trap, and Copenhagen (for which she received the Broadway Ovation Award). Most recently, her Broadway credits include A.R. Gurney's Ancestral Voices at Lincoln Center, Sylvia at MTC, and Cabaret at Studio 54.
Born in Weston, Connecticut, she is the granddaughter of John B. Watson, the internationally renowned psychologist who founded the school of behaviorism and who taught that children were to be trained, not touched or nurtured. Her warm and affectionate personality is a stunning contrast to her upbringing. In 1990 her autobiography "Breaking the Silence" was a bestseller in hard cover and paperback; it publicly chronicled her personal memories as a child in a home torn apart by alcoholism and depression.
Hartley feels privileged that her celebrity has allowed her to make contributions to society. She is the national spokesperson for the American Foundation for Suicide Prevention, which honored her with an Humanitarian Award for her outstanding work in the field of suicide prevention and research. For her involvement with organizations combating mental illness, Hartley was honored by the Southern California Counseling Center, and received the PSYCHE Award from the L.A. County Psychological Association. She was the first recipient of the California Family Studies Center's "Life Achievement Award" for her strength and ability to overcome family difficulties, and she was honored with the Larry Stewart Leadership and Inspiration Award from the Entertainment Industries Council.
Hartley is also involved with the Center to Prevent Handgun Violence, SOJOURN, and M.A.D.D. She hosted an educational video entitled How to Stop the One You Love From Drinking and Using Drugs, which is part of the Paramount Home Video's "Strong Families, Safe Families" series. She was also named Outstanding Mother of the Year by the National Mother's Day Committee in Washington, D.C.
Digby Diehl
Digby Diehl is a widely respected book reviewer who created the Los Angeles Times Book Review, hosted the MSNBC Book Club, was the first online book reviewer for Prodigy, and is former literary correspondent for ABC-TV's Good Morning America and book reviewer for Playboy magazine. He is also the noted author of 14 books, including the recent novel, Soapsuds, written with Finola Hughes
The coauthor of the New York Times bestseller The Million Dollar Mermaid, as well as several other notable celebrity biographies.